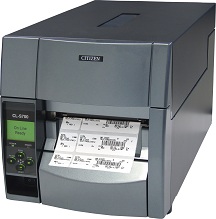 All Citizen label and barcode printers are designed with ease of use in mind and our new CL-S700 printer sets a new industry standard.
The Hi-Open™ case lifts up vertically meaning that the footprint of the printer does not change when the cover is open. For example, the printer can be placed tightly between a wall and computer and still the case can be opened for media loading.
Ribbon loading is equally quick and easy with the Hi-Lift™ metal mechanism opening to 90° to allow for easy ribbon access. This also makes media loading simple with unobstructed access to the media path.